Isn't that a walkboy?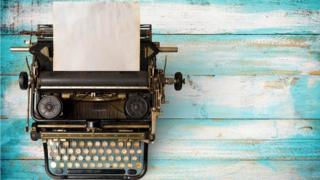 Young people can no longer tell the time using the big hand and the little hand, and some schools are even replacing standard clocks with digital ones in exam halls, according to some teachers.
We asked School Reporters from Catmose College, Rutland, what they thought – and we added a few extra questions to test whether they could recognise other types of old-style technology,
Some of their answers were rather interesting, but we suspect some of them might have had a little extra help.
The clock
First, we asked pupils if they could prove the reports wrong and tell the time using this clock.
Much to our chagrin, virtually everyone got it right.
"Almost 10 past 10," said Oliver, 13.
Reema, also 13, translated it into digital for us, "10:09".
Tom, 12, had quite a few goes, with quite a bit of scribbling, before deciding it was "10:10".
But Karl, also 12, declined to answer, saying: "We are old enough to have phones. So we use them."
The audio cassette player
Our picture of an audio cassette player didn't fool anyone.
"I think this is an old fashioned music player, used for playing music on the go," said Rebekah, 12.
"It's a Walkman, used to listen to music," said Tom.
Isabel, 11, disagreed about its actual name. "It's a Walkboy. You put tapes in it and listen to music," she said.
The film reel
The film reel was a lot harder for most students to identify.
"Tape measure," suggested Karl. Matthew, 12, thought it was a ribbon.
Most of the others knew it was used for recording.
"This is a tape that includes audio or video data," said Oliver.
Only Rebekah and Reema correctly identified it as film. "Used for reeling films on screen," said Reema.
The portable CD player
But our picture of a portable CD player divided the group.
"It is a CD player and you put discs in it," said Isabel.
Thomas, 11, was a bit optimistic about the powers of this particular piece of old tech.
"You put a disc for a movie in it and plug it in your computer," he said.
The VCR
Next up, pictures of a video cassette recorder and a video tape.
"What would you do with these two objects?" we asked.
"You would put the tape into the machine which would be connected to a TV," said Isabel.
"Put the second one in the first one," said Thomas.
Rebekah annotated our picture for extra clarity.
Karl, however, had a more enterprising approach. "Sell them for money," he suggested.
The A-Z book
Everyone was clear about what to do with an A-Z book, despite the prevalence of Google Maps.
"It's a map and it's got every place in England from A-Z," said Thomas hopefully. (London is the centre of the universe – right?)
"You look for places and follow the map to get there," explained Rebekah.
The Polaroid camera
As for the Polaroid, everyone knew it was a camera – but not everyone knew what kind.
"It's a flash camera," said Abigail, 12.
"Polaroid camera," said Reema.
"This is a camera that prints your photos straight away," said Rebekah.
The rotary phone
And everyone recognised the old rotary dial phone as a telephone, and a minority even knew how it worked.
"This is an original phone where you dial the number by spinning the centre," said Oliver.
"You turn the dials to put the number in," said Rebekah.
The typewriter
Lastly we showed them a picture of a typewriter, complete with ribbon and a manual carriage.
"Like a keyboard," said Oliver. "Used to print writing on paper," added Reema.
Karl, however, had other ideas. "Bingo machine," he declared.
We think he might have been joking.