Royal baby: What's it like growing up as a third child?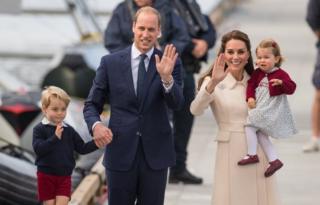 There will be many things that set the new royal baby's life apart from others, but something the prince will have in common with lots of us is siblings. With an older brother and sister, his is fifth in line to the throne, but what other effect can being third-born have?
The Duke and Duchess of Cambridge – herself the eldest of three – have extended their brood with a new sibling for Prince George, 4, and Princess Charlotte, 2.
According to the Office for National Statistics, there were 696,271 live births in 2016. Of these, 100,359 were mothers' third-born children.
Linda Blair, a clinical psychologist and Daily Telegraph columnist, said there are certain personality traits that can come from your standing among siblings.
"You get wiser parents with each kid. So third-borns grow up with more relaxed boundaries. These are the children most likely to be creative and risk takers. They can try anything. That third kid has lots of people to look up to," she said.
Children in larger families learn to rely on each other as parents' attentions are diverted, Linda explained.
"Your relationship with your siblings forms the way you react with social groups for the rest of your life," she added.
Linda – who has three children – said she too was much more relaxed with her third: "I was more able to enjoy the good times rather then getting anxious about what might be going on. You also become more able to delegate and ask for help."
Famous third-borns
Former prime minister David Cameron is the third of four children and said that growing up, he lived in the shadow of his older brother
Khloe Kardashian, who is the third-born of her famous siblings, has previously said she compared herself to her older sisters Kim and Kourtney and felt insecure
Actor Robert Pattinson has two older sisters, one of which provided backing vocals on songs featured on Twilight soundtracks
Oscar winner Jennifer Lawrence grew up with two older brothers in a house where it was "an offence" to be "considered a female"
Pop queen Madonna has seven brothers and sisters, one of whom – Christopher Ciccone – called her "a royal pain in my ass" in a 2006 tell-all book
Tito Jackson – the third of 10 Jacksons – found success as a musician and said of his most famous younger sibling, Michael, "I don't think I could have asked for a better brother"
Supermodel and actress Cara Delevingne has two older sisters, Poppy and Chloe. "Put it this way, if one of them killed someone I would help bury the body," she told Porter magazine in 2017
Comedian and actor Billy Crystal is the youngest of three and said "the only thing I was moody about was that one brother is 6ft 2in and the other one is 5ft 10in"
There have been numerous studies around birth order; some say first-born children may be more likely to be overweight, while another study said older siblings are smarter on average.
Isabel Gregg, a third-born 25-year-old teacher from Leeds, said her parents were "easier" on her than her brothers.
"My scenario was quite unique as I was the third born to twin brothers. They were, and still are, really close so I was on the outside of their little club," she said.
"They had each other on their adventures, so as a solo-explorer, I was more cautious than them. One of the best things is that they have always been fiercely protective and supportive of me, and have guided the way when I was perhaps too nervous."
Another third-born, Conor Egan from Barnsley, also benefited from more relaxed parenting.
"I definitely had more freedom than my older siblings, and my parents were far more lenient. This might be why I was probably less responsible than my brother and sister, as I always knew someone would sort out whatever it was that I needed," he said.
Blogger and writer Hattie Harrison lives in Tunbridge Wells with her three children: Lola, 7, Frank 4 and Olive, 2,
"People teeter on the edge of 'should I have three or shouldn't I'," the 32-year-old said.
Hattie's most read blog post 'To Three or Not To Three' asked just that.
"I think it's different for everyone. The hardest was going from none to one. That's life changing," she said. "I always wanted a larger family. But going from one to two is quite hard because suddenly you can be outnumbered at home. That's quite a contrast."
Each of her children have different personalities.
"My middle child is shy and the little one is cocky and fearless, having always had siblings to look after her," Hattie said.
Three's a crowd :
Certain benefit payments are limited to the first two children in a family
Family tickets are often only applicable to those made up of two adults and two children, so days outs and holidays can become a lot more expensive
Extra child-safety seats can mean a bigger-than-average car
As a parent, Hattie found herself less worried the third time around.
"You've seen how it worked. Every time I had a child the advice had totally changed so you stress less about the advice. Everybody's winging it, including the experts."
But there were changes to come, not least "more plastic around the house and more questions about dinner".
"Logistically it changes a lot – a bigger car to fit three car seats, three groups of friends and three different childcare settings. Keeping track is hard," Hattie said.
Every family is different, but Hattie's advice for Catherine and Prince William is: "Go with the flow. Hunker down as a family and do what works for you."