Sheffield universities probe 'racism' reports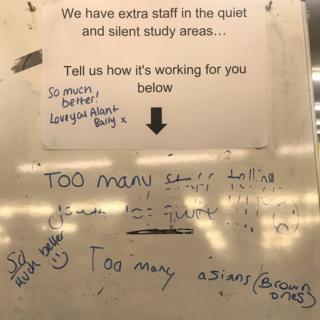 A series of allegations of racism involving university staff and students in Sheffield are being investigated.
Four separate reports are being probed, including claims a security worker at Sheffield Hallam University (SHU) called a student a "monkey".
Three of them relate to SHU. The fourth involves claims a University of Sheffield student threw a banana at another student during a varsity event.
The universities say all four allegations are under investigation.
More stories from across Yorkshire
One student reported "Too many Asians (brown ones)" had been written on a feedback board in the library at SHU.
Maisie Bithell, 19, who photographed the whiteboard before wiping off the writing said she had been "disturbed" by what she saw.
"There has been a lot of stuff about racism in universities at the moment but to see it in my own was shocking."
SHU-graduate Tyrell Pearce told BBC Radio Sheffield he had been hit by a banana during an ice hockey match between the two universities in March.
"I was pretty shocked. University is meant to be a multi-cultural place," he said.
SHU is also investigating a second claim that a security worker using racist language.
Planned protest
News of the investigations comes after the president of the National Union of Students said universities were not confronting racism.
Haj Liaquat, from the University of Sheffield's BME committee, said she believed racism was being "brushed under the carpet".
She said a protest was due to take place on Friday to "lobby the university to take racism seriously".
A spokesman for SHU said an investigation had been carried out into racist writing on the whiteboard but they had been unable to identify anyone responsible.
'Extremely seriously'
"The recent incidents that have taken place involving our students are in the process of being thoroughly investigated and all possible action will be taken to prevent similar incidents from happening again," the spokesman said.
"We take any incident regarding racism, hate speech or other abusive acts extremely seriously."
A spokesman for the University of Sheffield said an investigation into Mr Pearce's claims was ongoing.
He said: "There is no place at Sheffield for racism in our university or students' union."