Trump attacks Amazon for paying 'little or no taxes'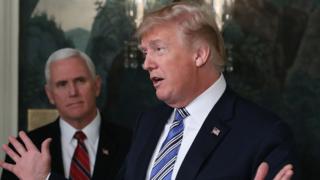 President Trump has launched an attack on Amazon saying it pays little or no local or state taxes.
He also accuses it of "putting many thousands of retailers out of business".
Mr Trump added in a tweet that "they [sic] …use our Postal System as their Delivery Boy (causing tremendous loss to the U.S.)".
It follows a report on the news website Axios on Wednesday that claimed Mr Trump wanted to "go after" Amazon.
Amazon shares fell more than 4% on Wednesday.
However, tech stocks such as Twitter, Google and Facebook have also fallen in recent weeks in a wider sell-off.
The Axios report claimed: "Trump's wealthy friends tell him Amazon is destroying their businesses. His real estate buddies tell him – and he agrees – that Amazon is killing shopping malls and brick-and-mortar retailers."
It is not the first time the President has criticised Amazon on social media.
Last year in August, the President tweeted: "Amazon is doing great damage to tax paying retailers. Towns, cities and states throughout the U.S. are being hurt – many jobs being lost!"
In the past the President has also taken aim at the Washington Post which is owned by Amazon founder Jeff Bezos.
Last year the he tweeted: "The #AmazonWashingtonPost, sometimes referred to as the guardian of Amazon not paying internet taxes (which they should) is FAKE NEWS!"